Call 1-800-476-5811 to talk with a Professional Promotional Consultant!
Since 1984 carman:::ad-image has been providing quality imprinted promotional products for a local, national, and international customer base. We provide prompt courteous service on all inquiries and would welcome the opportunity to earn your promotional products business.
We operate in the Upstate of beautiful South Carolina. We have the staff and facilities to handle your promotional programs, no matter how large or how small. We can help you set up a personalized on-line company store to offer you easy order programs if you are providing your promotional products to a wide base of users.
T SHIRTS? DO WE SELL T SHIRTS!!!! There is no one in the business that is more competitive and our print quality is second to no one! If you are ordering custom t shirt orders, we would welcome the opportunity to provide you with a no obligation quote! ON TIME.....EVERY TIME
PENS? DO WE SELL PENS! If you are looking for an inexpensive way to keep your name in front of customers and prospects alike....ad pens are the tool. Many of our custom pens can be shipped with a 24 HOUR TURN-A-ROUND! We will be happy to send you free random samples....just call or email and ask!
SPECIALS? DO WE HAVE SPECIALS! Be sure to click on our SPECIALS button at top of home page. You can save some serious GREEN!
Please be sure to check out our "Testimonials" from our satisfied clients!
If we can be of service here is our contact info:
Telephone: 864-295-5811 Local
Toll Free: 1-800-476-5811
Fax: 864-295-5812
We look forward to hearing from you soon!
Featured Item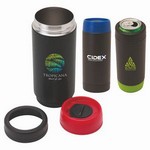 Frosty 18oz. Double Wall Steel Tumbler/C...
The Frosty is a double function, double wall 18oz stainless steel tumbler and can cooler. The tumbler lid features a spill-proof sliding closure and is ideal for hot or cold drinks. Swap the black can...
$12.99 - $14.49
Signature Showrooms